Take Overdrive for a
15-day Test Drive
DOWNLOAD OVERDRIVE FOR MAC OS X
MAC OS 10.9-10.11 ONLY
Includes Overdrive and Overdrive Layout
ColorBurst_Overdrive_2.4.3.dmg
(35.6 MB) release notes


MAC OS 10.6-10.8 ONLY
Includes Overdrive and Overdrive Layout
ColorBurst_Overdrive_2.3.5.dmg
(35.6 MB) release notes


Overdrive Tutorial covering Environment setup and printing
Overdrive_Quick_Start.pdf (950 KB)
Overdrive Layout Tutorial covering Environment setup, processing files, layouts, and printing
Overdrive_Layout_Tutorial.pdf (2.1 MB)
ColorBurst 4.1 PPD Installer
(for client machines printing to Overdrive across a network)
ColorBurst_PPD_Installer.zip (12 KB)
HOW TO TRY OVERDRIVE FOR MAC OS X
1. Download the Overdrive install DMG (above)

2. Launch the Overdrive DMG and copy files to install
Double-click the DMG file to launch the disk. Copy the Overdrive folder to the Applications folder.
3. Click the Try Demo button
When you launch Overdrive or Overdrive Layout, click Try Demo to begin your 15-day demo. The demos are exactly the same as the full versions.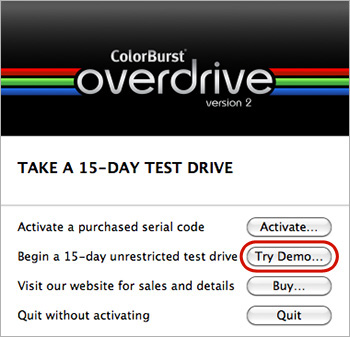 DOWNLOAD OVERDRIVE FOR WINDOWS
Overdrive RIP
Overdrive_Installer.zip
(138.2 MB)

Overdrive for the Epson SureLab D3000
Overdrive_SureLab_Installer.zip
(136.9 MB)


Overdrive for Windows User Manual
Overdrive_Win_Manual_v1.pdf (2.1 MB)
HOW TO TRY OVERDRIVE FOR WINDOWS
1. Download the Overdrive install ZIP (above)
2. Extract the ZIP
Right-click the ZIP file to extract the installer file.
3. Run the Overdrive installer
Double-click the installer.exe file to install Overdrive. When installation starts, follow the instructions on your screen.
4. Double-click the Overdrive demo shortcut on the desktop
Two Overdrive shortcuts (demo and live) are placed on the desktop during installation.
5. Fill out the Demo form
When you launch Overdrive, fill out the demo form and click OK to begin your 15-day demo. The demo is exactly the same as the full version.